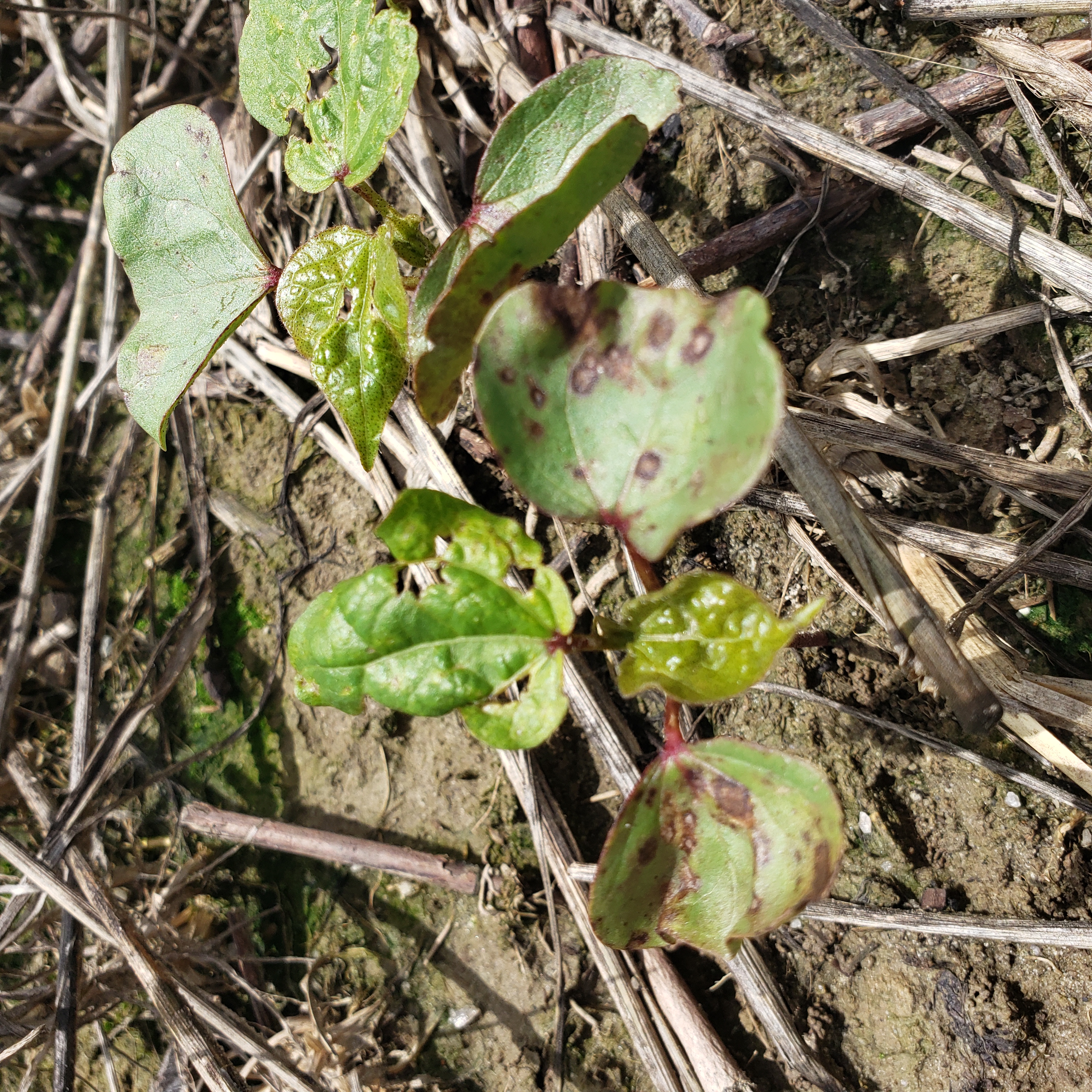 picture above (taken 6/1) had acephate and is safe. Note shiney new leaf. T
Is the House on fire or just smoke from the Chimney?
6-6-2023
Thrips resistance is the buzz word based on the recent article that came out this past weekend at the NC State cotton web portal. However, social media picked it up and there is no doubt that Facebook & Twitter have a way of amplifying things that are discussed. My blog today actually deals with two points. The most important point is addressing the effectiveness of insecticides on thrips. I'll get to that in a minute.

The second point is how news seems to be used for an agenda and then social media's way of dealing with news adds a layer of emotion. When you get 5 texts, 3 emails, and 4 phone calls on something that is all over the web already, you know somebody's up to something. It's not like we are all a bunch of teenage girls with our hair on fire. (If you feel a little bit emotional, just search the Taylor Swift song "You need to calm down"). There is also a frustration factor to this for a farmer as us industry people can sort of through rocks at their competition even though we all live in a glass house. On Sunday, several folks were throwing rocks at the Orthene man. Anyway, to process the information, I like to bring it back to math, science, experience, and data.

The main question is does acephate (Orthene) work to provide effective control of thrips? And are the planting options including Seed Treatments, AgLogic, or AdmirePro working? These are my comments using the filters I use to process information.
Yesterday I looked at fields that have already been sprayed with acephate and will continue to do so the rest of the week. So far, I am finding that acephate is effective in Virginia. However, the cotton has been growing slow and cotton is not safe until it makes a couple of big new true leaves. These leaves do not have to be perfect, just good enough to take in sunlight. When it gets warm, it will take off.

Still there might be a field that needs respraying, and we need to sample these populations and take them to the research station, or get someone to come out to determine if we have resistance. So far, it does not look like it to me.

Seed treatments can look excellent when planted in warm conditions followed by warm weather making cotton grow fast. Not this year, so use Orthene 14-17 days after planting. Fields that I have walked in that are 10 days beyond the Orthene spray look fine.

Ag Logic and ThryvOn look perfect. The insecticide tube needs to be adjacent to the seed tube to be perfect. (zip tied together)

AdmirePro looks very good and approaches the best if the thrips population is not resistant to neonics. I think there is more concern about the neonics than the Orthene, however, the fields I have looked in with AdmirePro look better than seed treatments.

From a long term perspective, we need to recognize that resistance is a real issue and like with pyrethroids and worms, palmer and ragweed with roundup; constantly spraying a fields with the same chemistry results in the eventual failure of that chemistry. It's like it works until it doesn't. The lesson here is that we do not need to keep spraying acephate for plant bugs in June and July just because it works. With thrips remaining in fields all summer, the constant exposure to acephate will cause them to become resistant, as well as the plant bugs.

SUMMARY: We are now getting warm and, this week will end the thrips subject for 2023. Stick to plan A with Thrips for this year but think about what we do with plant bugs and how it might feed into future problems. Once cotton makes some big leaves, it is safe. The picture above was taken June 1, one week after acephate and was safe. The acephate worked. I confirmed it yesterday as it has large leaves and only a few thrips.

Login and Click on the ON LINE NEWSLETTER for ideas on timing thrips sprays and the first over-the-top weed control.


DISCLAIMER: The data contained herein is for informational, conversational, and philosophical thinking and is for general purposes only. Ideas expressed apply to the Uppter Southeast growing region. Although the information was obtained from various sources, which we believe to be reliable, we do not in any way guarantee its accuracy or completeness. Comments are influenced by past experiences, personal bias and hypothetical speculation by the writer and are not always accurate predictors of future events. Specific references to Agricultural Products and Rates are used for examples and do not reflect specific endorsement or recommendations for use. Always read and follow all label directions and precautions for use. We disclaim any responsibility for any errors or omissions contained herein. FULL DISCLOSURE: There is no compensation received by Johnny to promote any product referenced with in this blog. Johnny is a paid employee of Commonwealth Gin